Well, if you read my last blog my big plans for Sunday were to watch a Christmas movie and take a cat nap. It never happened the nap that is there is just too much to do this time of year. Today was a busy day in our home. We did the usual cleaning and washing but today Jessica was in the kitchen baking her heart out. She wanted to give everyone she works with a little something. SO she baked cookies to take in to work tomorrow. I love that the girls can do this on there own now. I had to assist every now and then mostly cleaning up the mess from one project to the next.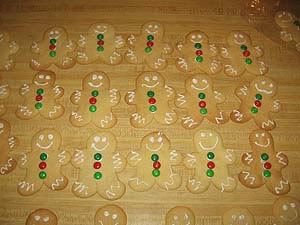 Here are a few of the sugar cookie men she made and decorated. Jessica always makes sugar cookies and they are so good not to mention cute.
She also made a great cookie that is so easy. You just take peanut butter crackers and dip them in chocolate. So easy and so good. This is a good one the children can help with. They can put the peanut butter on the Ritz while you are dunking them.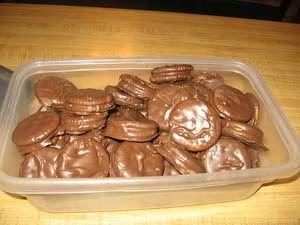 Ok
one last picture I would like to share. These are my Christmas Cactus they are blooming like crazy this year. I just love everything about Christmas!