Before I show pictures I wanted to thank Tammy over at countrygirlathome for mentioning my blog on hers. Also thanks to all of you who have been reading my blog and for the wonderful comments.. Tammy was right writing blogs can be as addicting as reading them. I love reading about everyones  lives and especially  love looking at pictures of your homes.
I have a few more of my favorite Christmas items I'd like to share. I love Santa's but only have a few.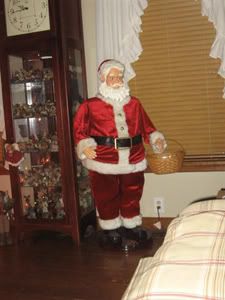 Here is a Santa I inherited when my Nanny passed away. He sings and dances but I think somewhere down the line his wires may have been destroyed. He still dances but he won't sing. That's ok he was my Nanny's so he can just stand there. I put a basket in his hand filled with candy canes. When the neighborhood children come in they always take one or two.
Here are two fabric Santa's I've had for a few years. I really like the Possible Dream Santa's but I don't have any. I like these all the same.
I have a lot of Boyd's Bears and these are my Santa bears and I just love them!
Now here of some of my favorite pieces. I loves Mooses or Meeses now I'm not sure which is the proper word. 
I love this guy. I bought him at a craft store a few years back. He has real heavy feet so he won't tip over.
Here are some of my Boyd's Mooses/Meeses. I can't explain what it is about them I love so much but I do and I can't wait to put them out every year.
It was hard to get a close-up of this picture without cutting out the little clothes. They are the cutest elf clothes I have ever seen. I got these this year from Avon. It came with the clothes, line and clothes pins. What better place to hang them than in the laundry room. 
Well, I hope you enjoyed the rest of Christmas pictures. I really love Christmas and try to add a new piece each year. Not all of my stuff is prim but a lot of them I have had for awhile or they were passed down. I guess if I keep them long enough they will be primitive one day. :)
Donna